Here is the ice cream, campers: Draw one of my characters, submit the picture, observe the votenating, and if you are the winner, collect your fabulous prize! (nothing). You choose the stance yourself. Ask me about specific details of characters.
Pictures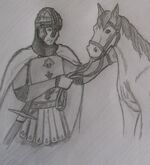 Descriptions of my drawable characters:
Kerrigan Edagrel
Appeareance
5'6 (ish), green eyes, black hair, short (the hair).
Apparel
Wearing a sword (If the sword is drawn in your picture,the blade has a gold line wrapped around it) plate mail, no helmet, black cloak with a golden "G" on it.
The Specter
Appearance
Asian, 7'2, completely black eyes, black greasy hair.
Apparel
Wearing a cloth drawn across the face to hide nose down, carries a laser-dagger-thing.
Pictures
Appearance
Blond hair, slightly longer than his ears, bout 6'4, blue eyes.
Apparel
Full battle armor, helmet optional, White cloak. His horse, if in picture, is white.
Larry Smithers
Appearance
Brown hair, unkept and messy, not very long, bout 5'5, 14 years old, blue eyes.
Apparel
Carrying any sort of weapon, wearing a duster coat.
Jill "The Ripper" Sandvik
Appearance
Blond/brown hair, ponytail with bangs parted like an "M". Tall. Blue eyes.
Apparel
Sword that is a giant syringe. A bloodstained and torn labcoat.
King Luvvin
Apperance
Moderate Height. Brown hair, graying on the sides, green eyes.
Apparel
Brown hooded. May be carrying a sword or wooden talisman.

More characters may be added later. Possibly.